Excel has been a powerful tool of Office Suite for almost 2 decades. It is mostly applied to do statistic stuff and let people arrange the data in an easy but clear way. However, when you have made the Excel file and want to present it to other people on a paper, Excel has some shortcomings. For example, the layout of Excel is not so clear, especially because of the unlimited extension of the table inside an Excel file.
To make the visual effect of your Excel files to be better, converting them to PDF before printing out would be more beneficial. So here, I would like to introduce the best Excel to PDF converter I have ever tried, which is the tool that is offered by EasePDF.
Why I Choose EasePDF Services?
Except for EasePDF, I have also tried other tools before for dealing with some simple PDF problems, including Adobe Acrobat PDF Editor. I don't mean that this professional tool is not good, for sure it can be the leading one in this field, but the fact is that it is too much for me – more expensive, and more complicated to use. By contrary, EasePDF just makes all its provided tools to be simple, and more importantly, the services are all for free. Therefore, you won't wait much time as well as money for simply converting an Excel file to PDF, even without software.
Other features of EasePDF maybe the points that can attract you, they include:
No account sign up needed
Up to 32 PDF tools provided for free using
Fast and smooth process to use all PDF tools
Two secure methods adopted, including 256-bit SSL Encryption and auto-deletion
Best converters to convert formats between PDF and other documents like Excel, Word, PPT, etc.
Different language modes offered such as English, Simplified Chinese and Traditional Chinese (more languages will come soon)
Easily Convert An Excel File to PDF on EasePDF
Now let's back to the problem today, which is to convert the Excel files to PDF. As we have selected a powerful online PDF converter, shall we start to see how can we use EasePDF Excel to PDF converter to get an Excel file converted online easily and freely? Keep reading now!
Step 1. In the beginning, we should go to the online tool in a browser. So directly open EasePDF, and on the main page, you can scroll down and find Excel to PDF converter. Or you can drop the All PDF Tools menu in the navigation bar and select Excel to PDF here.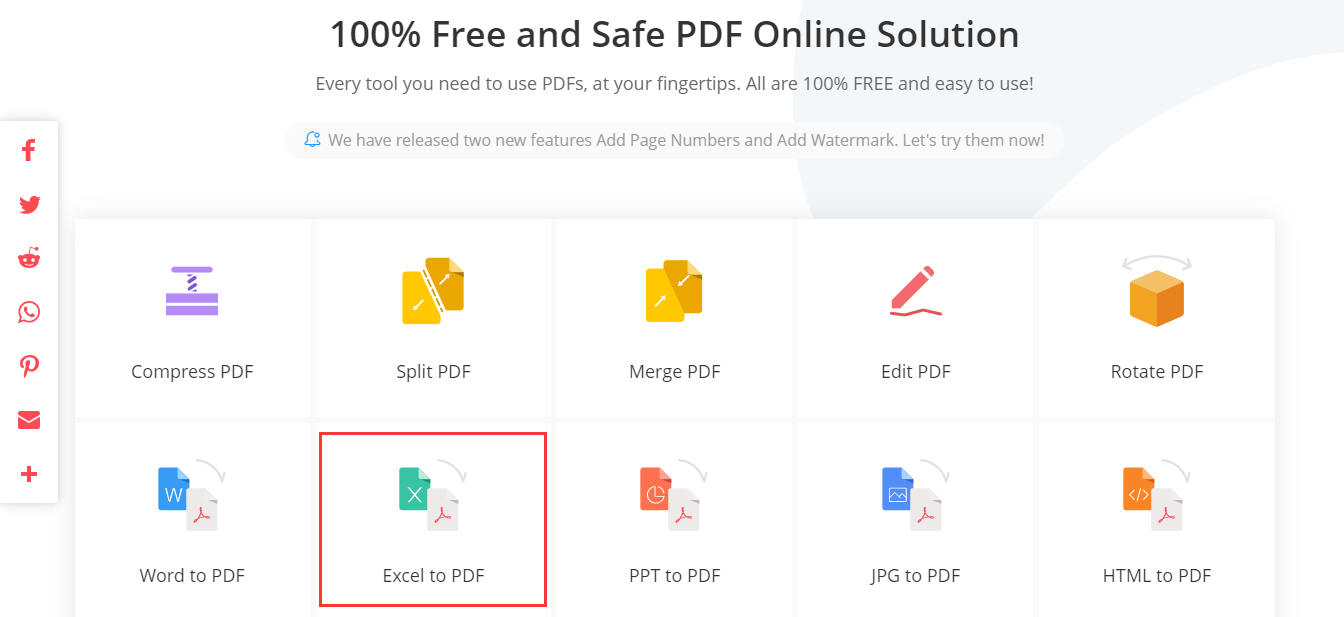 Step 2. When you in Excel to PDF converter, now press the Add File(s) button to add the Excel files you need to convert to PDF here. Not only from your desktop but also GoogleDrive, Dropbox, and OneDrive are available. Besides, if you can get the URL of the Excel files you save online, you can also add them through pasting the URL here.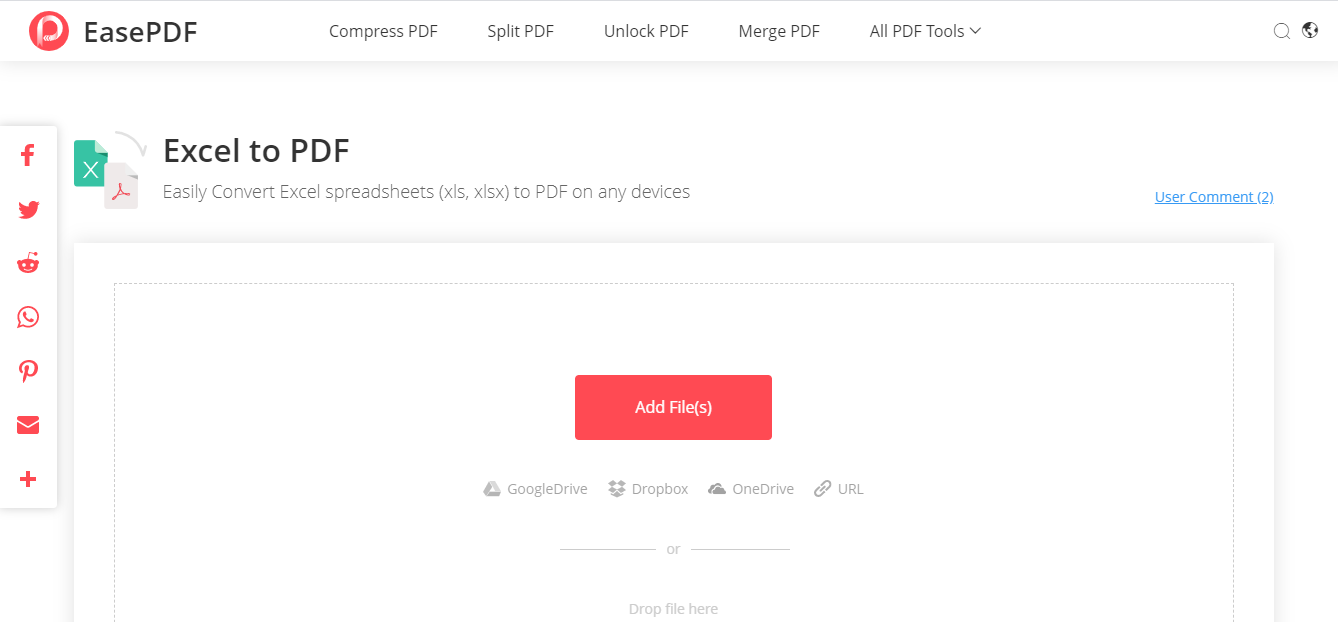 Step 3. If you have finished adding the Excel files, EasePDF will just start to convert them to PDF immediately. When this process is completed, you will get a Download button to save all converted files in a zip package. Download it and you can save the files to your computer. If you want to save the PDF files to other platforms, you can choose GoogleDrive, Dropbox, and OneDrive as well. If you don't want to download the files immediately or want to share with other people and let them download, you can save the URL or send the files through Email. It should be noted that the URL will be expired after 24 hours.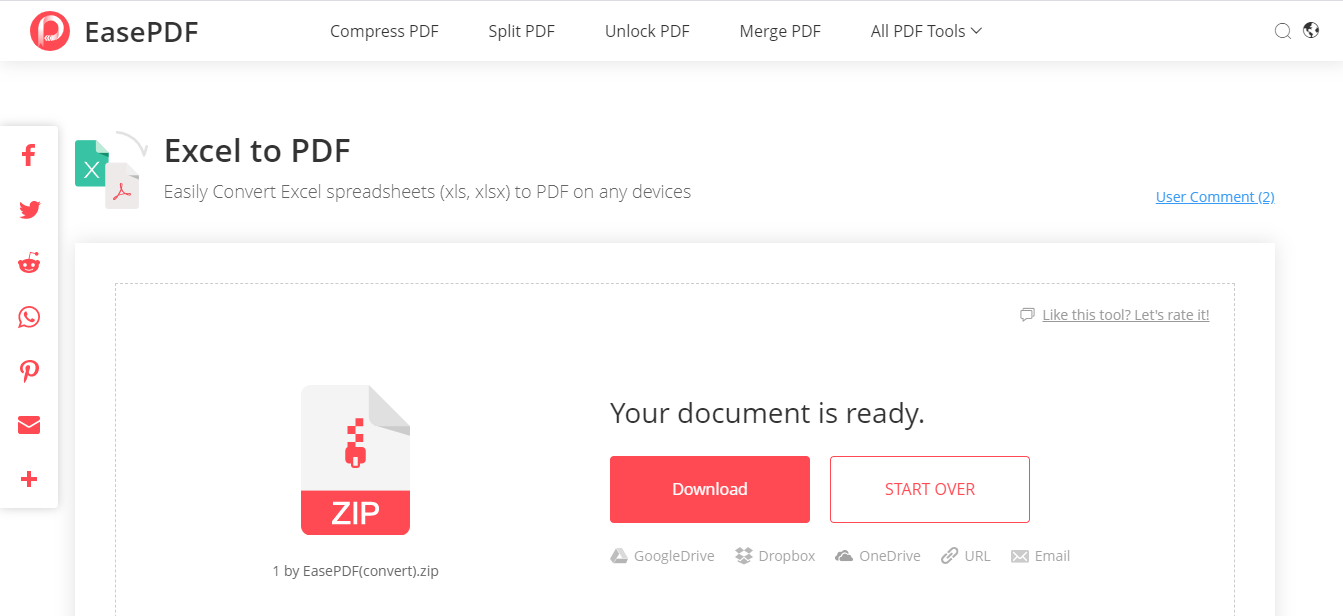 In Conclusion
If you have an Excel file that you want to convert to a PDF file, you don't need any other complicated tool, just a single EasePDF online platform can offer you all help. You will be surprised by this amazing PDF solutions provider!