Are you facing trouble while managing your files and folders on your Mac devices? If yes is your answer, then you should use Commander One software for managing all files and folders without any hassle for sure. There are many people who always a better alternative with better features, so the Commander One app will be a perfect choice for those users. It is faster, convenient and very powerful for handling all your tasks.
You can view all your hidden files and folders and work on it. This software provides the flexibility and choice to Mac users. It also provides cloud storage functionality to the users. Users of Commander One can perform all the host actions and everyday activities on Mac. It has an FTP Port client as well and granular control for transferring of files and folders.
Features Of Commander One
File Previews
If you are working with several files and folders, then it will be difficult for you to keep a track of all those files and folders for sure. You do not want to deal with all those issues and hassle because there will no file previews for you. The best thing about this great software it offers the feature of file previews so that you can make the most out of the folders and files you are dealing with.
Root Access
This helpful feature of Commander One software is only for advanced users. By using this software, you would have full root access to your Mac root directory. Make sure you are not meddling with the files which you are not fully aware of. If you are taking it lightly and ignoring it, it can impact your working experience.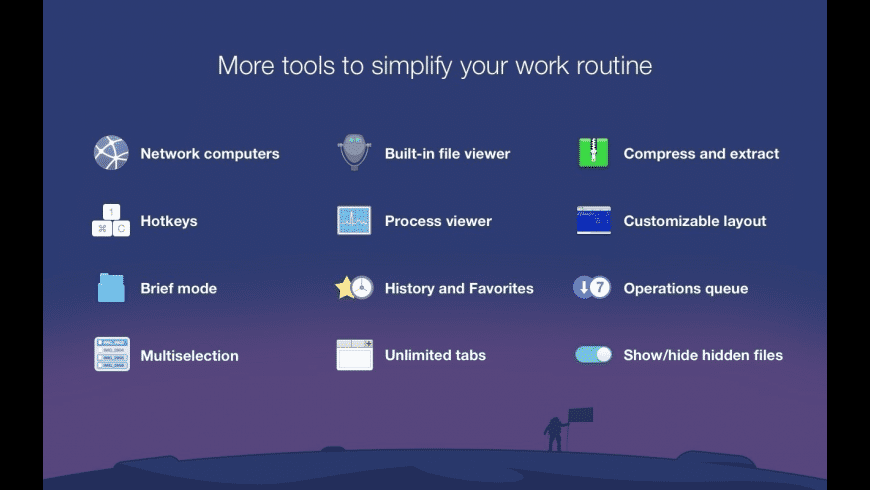 User-Interface
The user-interface of the software is simple and you are not going to face any issues even using it for the first time. All the options are easily accessible in this software. There is not much to bother about using this software and everything is simplified.
Android File Transfer
This feature is one of the most vital features of Commander One software. With the help of this software, you can transfer your files from Android devices. It is very easy to do and not going to cause any issues for sure. So, if you are having an Android device and you want to transfer your files, then this is the perfect solution for you.
Conclusion
At last, it is your turn to use this software and avail the features by yourself. It has an incredible user-interface for the users. The user interface is very simple and easy to understand for the users. Make sure you are using it after going through its reviews for a better understanding for sure. This software is available free to use for the users and you do not have to pay anything for using it.
So, what are you waiting for? Start managing your files and folders right now!