The author box is a small box-like section at the bottom of your blog post, and it contains biographical information about its author. An author box plays an important part in post creation because it proves to the readers the authenticity of your website and the content you are writing.
The benefits of the author boxes
Well-designed author boxes can add to the overall professionalism of your posts and your website. You can easily showcase multiple writers or guest authors and give them proper credit.
Here is a list of reasons why you should add an author box to your posts:
Website authenticity – you can make your website more authentic and give your readers insight into the authors of the content.
Easy collaboration – add content by multiple authors to reach diversity.
Traffic growth – author boxes can improve your SEO which leads to more traffic for your website.
Promotion – you can promote different authors and their social media.
Post personalization – an author box helps with post customization and leads to a more approachable and professional website layout.
Blog organization – you can include links in author boxes so your readers can quickly navigate to other relevant posts or sites.
How to create an author box
There are many ways you can add an author box to your posts. Sites can have a theme with a built-in author box that you can use. Or perhaps, if you have a theme of your own, you can add author boxes manually by writing code snippets directly in your source code. Nevertheless, the methods mentioned are time-consuming, so if you want to effectively add an author box, the best way to do so is by using the Simple Author Box plugin.
Introducing Simple Author Box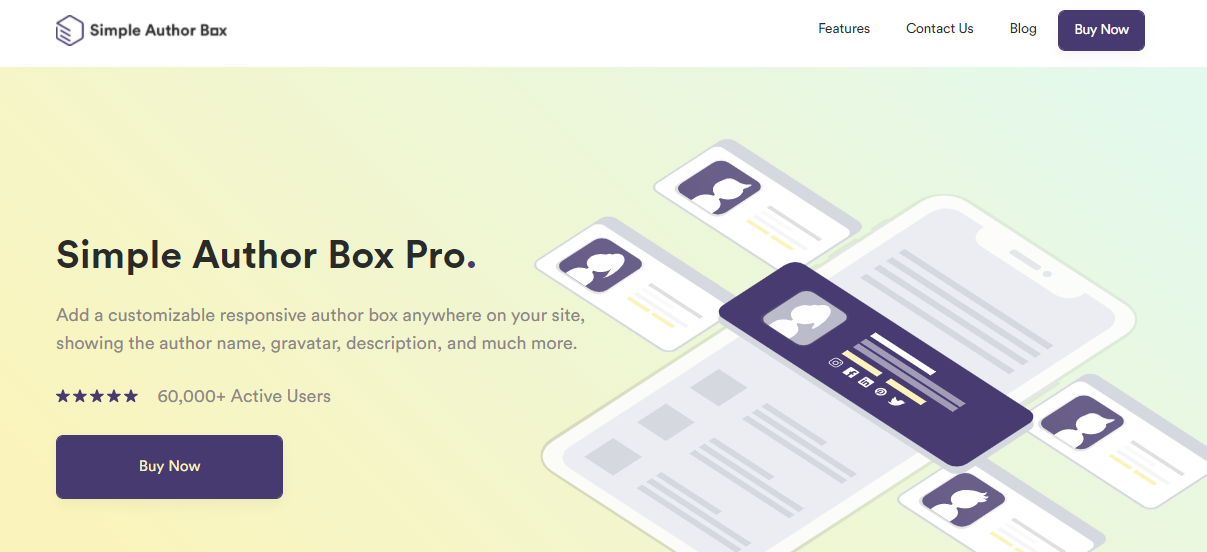 Simple Author Box is a WordPress plugin that lets you create customizable author boxes that you can place on your posts. With this plugin, you can fully edit the design of your author box for a perfect blend with your WordPress theme.
The main features of the Simple Author Box plugin are:
Creates fully responsive author boxes that will look their best no matter if they are viewed on mobile, tablet, or laptop.
Provides easy and full customization with the help of a user-friendly interface.
Simple Author Box lets you display social media links, Gravatars, names, etc., making it perfect for collab projects.
You can set up automatic or manual insertion of author boxes.
You can enable guest authors and co-authors by assigning them to posts so they can get recognition.
Supports adding over 45 social media icons to author boxes
How to use this plugin
The installation of the Simple Author Box plugin is quite simple. First, you must go to your WordPress dashboard and search for Simple Author Box in the Download Plugin section. On the left side menu, click on Download. After the download has been completed, you can install and activate the plugin on your site. Go to WP Admin, then Plugins. Choose Add New and then Upload Plugin. In the WP Admin section, go to Appearance and click Simple Author Box. For successful activation, you will need a license key. The plugin will guide you through the setup after activation.
You are presented with multiple options when adding or editing the author box on a post. You can change the color of the author box's border, add a rotate effect for the Gravatar or even change the location of author boxes. The option to enable guest authors and co-authors is perfect for big collab projects.
Conclusion
Author boxes are perfect for you to make your websites and posts more authentic and properly credit your guest authors. With the help of the Simple Author Box plugin, you can easily add and customize author boxes, which can deliver more traffic to your site and improve the overall design.