We know today people using different android gadgets and Mac to make their life comfortable. Besides, this we have sight people using android gadgets can easily transfer things such as video, files, folder, pictures, and many other things to another android gadget. But when it comes to transferring things from android to Mac then it feels very complexity and barrier. Simultaneously, the transfer of files between the same gadgets is simple and eases but it doesn't mean that all people will carry the same gadget. It depends on people's choices while purchasing the gadget.
Now you do not need to take stress as we have brought an application MacDroid through which users can easily transfer files and other things from android to Mac and Mac to android with ease. It means now you do not go through any complex process as with this software you have to simply connect both gadgets using USB. It is a great solution that has brings transfer of file with ease and simply moves data between gadgets. It means if your Mac system grabs important data then you do not need to carry it by simply transfer data into the android gadget with ease.
MacDroid is the app that offers compatible functionality with the android and MTP devices. Now with a simple install of the app, you can transfer files and videos into the android gadget without any hassle. With this, you can also explore a variety of features of the app to create things simple for people. We know that sometimes phone storage gets full and to transfer them into the Mac you need to follow the long process due to people start deleting some pictures or videos. But with the MacDroid you do not need to delete your memory as you have to simply connect the gadget with the Mac system using USB for transferring files.
Features Of MacDroid App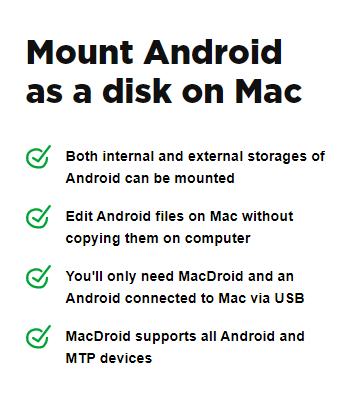 MacDroid is the app that has makes the transfer of files and folders from one to gadget to another with conveniently.
Easily transfer recent photos
In your android gadget, you carry some special and great photos which you want to save for a lifetime. To save it you can easily transfer on the Mac using the software or can also edit them without transferring. It means now you do not need to get irritated while transfer or get the idea of deleting due to storage issues.
Can work all types of folder
Sometimes people face the issue of transferring with specific types of a folder and there could be many reasons. When you opt for the MacDroid app then you can easily transfer multiple folders from Mac to android with ease. With this, you will always explore documentation up to date on the device so that you can enjoy advanced technology.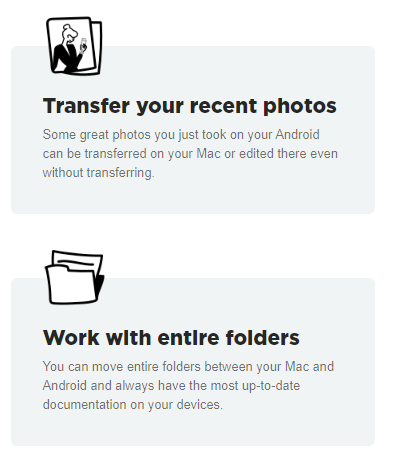 Edition directly on the android gadget
The application also offers the feature of editing and for this, you do not need to save files at your Mac system. It means while the transfer of file you wants to edit any picture or video then you have to simply connect the phone using USB and then easily edit the file on the Mac. Once the edition is completed you can save changes with ease.
Also, transfer the file on offline mode
When you are traveling with long flights and want to enjoy some series or movies. But they have been saved on your Mac system and want to watch it at your android gadget. Then here you can easily enjoy the feature of transfer of files without connect to the internet connection. It means MacDroid can transfer files offline without any hassle.
Explore new music at your android gadget
If you have saved your favorite track or music at the Mac system then you can easily transfer into the android gadget just in one click. With the use of MacDroid, you can easily transfer track or music and enjoy listening to it anywhere.
Support any MTP device
If you equip with the device that has a connection with the MTP mode then also you can comfortably transfer files using the software. MacDroid is the perfect software that everyone needs to make the transfer of files between Mac and Android gadgets.
MacDroid can mount android just as the drive
It is the software that has make Mac system usage ease for people while they are carrying the android gadget. With the help of MacDroid, you can easily mount the internal and external storage just in one click. Even when you are using the software you do not need to use other types of plugins and extensions. The software works as a whole and the best to break the barrier between Mac and Android.
How To Transfer Files Between Mac and android?
Here you can explore some simple steps through which you can easily and simply transfer the
files between android and Mac.
Firstly, you have to connect the Android and Mac with the use of USB. Now you have to install and open the MacDroid app. After this open the device and in its main menu you have to explore your device name on the list.
In the next, you have to allow your Mac to easily access the android gadget. In this, you have to select the two modes of connection. In the app, you can seek ADB and MTP mode and then follow the process. This way, it gets confirmation about the device on the system.
Now the app and your device are ready to transfer files. This confirms that your device has got connected. Now you have to open the files in the finder app and enjoy the transfer of files with ease. Even you can also transfer edit files using the MacDroid application without any hassle.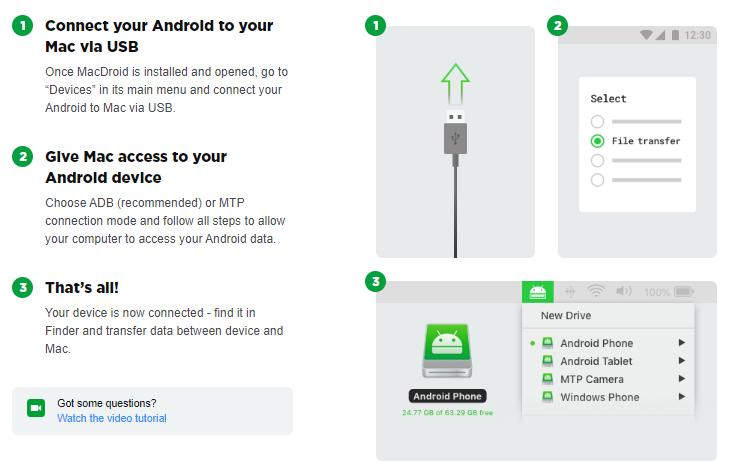 MacDroid is the application that can conveniently transfer files and folders at free. But if you want an update and the latest version of the app then you have to pay a little bit amount.