Are you looking for the best way to transfer your WhatsApp account from one device to another without losing any of the chat histories? Then you are in the right place. Nowadays we just don't want to lose our chat history because there are a lot of important conversations, we have which we can't afford to lose.
Often when we buy a new device, we and transfer WhatsApp to it, we lose our chat history or we lose all our media such as photos and videos. Well, not just WhatsApp whenever we switch to a new device, we have to make sure we are taking all our data with us by transferring it to the new phone.
When it comes to transferring WhatsApp to a new mobile with the same operating system it is pretty simple. Let's say you want a WhatsApp transfer from Android to Android then you are already familiar with the Ecosystem and do it easily but when we have to transfer WhatsApp from Android to iPhone it won't be that easy.
Don't worry, to make this much simpler there are various tools on the internet that can help you to transfer WhatsApp messages from Android to iPhone easily in just a few simple clicks without you doing anything.
MobileTrans – WhatsApp Transfer.
There are various methods out there through which you can transfer WhatsApp to the new iPhone. One of the easiest ways is to use the official 'Move to iOS' App made by Apple but do you know? It only installs the App on the new device and doesn't restore its chats.
This is why we love to use MobileTrans – WhatsApp Transfer which is a 1-Click tool to transfer WhatsApp from Android to iPhone. It is a perfect solution for those who are upgrading to a new iPhone and want the entire WhatsApp Chat history to be transferred to it.
MobileTrans not only has the WhatsApp transfer feature but it also has the Phone Transfer feature which can Transfer Data Between iOS, Android & Windows Phone and this includes Contacts Messages, Videos, Photos, Music, Notes, Apps, Wallpaper, and Voice Memos. This makes it the best phone to phone transfer tool out there.
MobileTrans – WhatsApp transfer is available across the platform such as Windows and Mac and supports transfer from all kinds of different operating systems including Windows Phone. It is also very lightweight and doesn't use much of your resources which is a good thing. Now let's check out some of the main highlights of this tool.
Features of MobileTrans – WhatsApp Transfer.
The Software is curated perfectly for everyone's need. It comes with a large set of features and let us quickly get you through some of them.
Transfer between Multiple Devices.
It allows you to transfer WhatsApp chats from one device to another. Not only Android to iPhone but you can also transfer WhatsApp from iPhone to iPhone, Android to Android, and iPhone to Android. It supports a wide variety of devices including the iPod touch, iPad, and other tablets. Not just WhatsApp but it can also transfer chats from other instant messaging applications such as Kik, LINE, Viber, and WeChat.
Back up WhatsApp Data to Computer.
Sometimes you don't want to lose your WhatsApp chat history and instead of just storing them on your phone you can also store them on your computer and restore them anytime you want. This also comes handy when you have less storage on your Mobile Phone and want to keep all the media safe. MobileTrans will help you to store all your important messages and media files so you can clear up some extra space on your phone. The best part about this tool is that you can directly read messages and check media directly on your computer. The backup includes WhatsApp Messages, Photos, Videos, Attachments and Stickers.
Restore WhatsApp Backup to iPhone/Android.
You can restore the backup you made on your computer anytime, anywhere. It means you can restore the WhatsApp backup to any device whether it's the same phone or a different phone. You can also make multiple backups to ensure the chats are up to date and also preview each backup before you can restore the data back to your phone.
How to Move WhatsApp from Android to iPhone.
Anyone can use MobileTrans because of its simple and easy to use interface. Here's a simple step by step guide to help you transfer WhatsApp from Android to iOS. So, at this moment we suppose you have already downloaded and installed the software on your PC. If not then quickly download it and let's dive in.
Start by opening the MobileTrans and then select the "WhatsApp Transfer" option. Once you have clicked the WhatsApp Transfer a new page will open and from the menu select WhatsApp and click on Transfer WhatsApp messages option.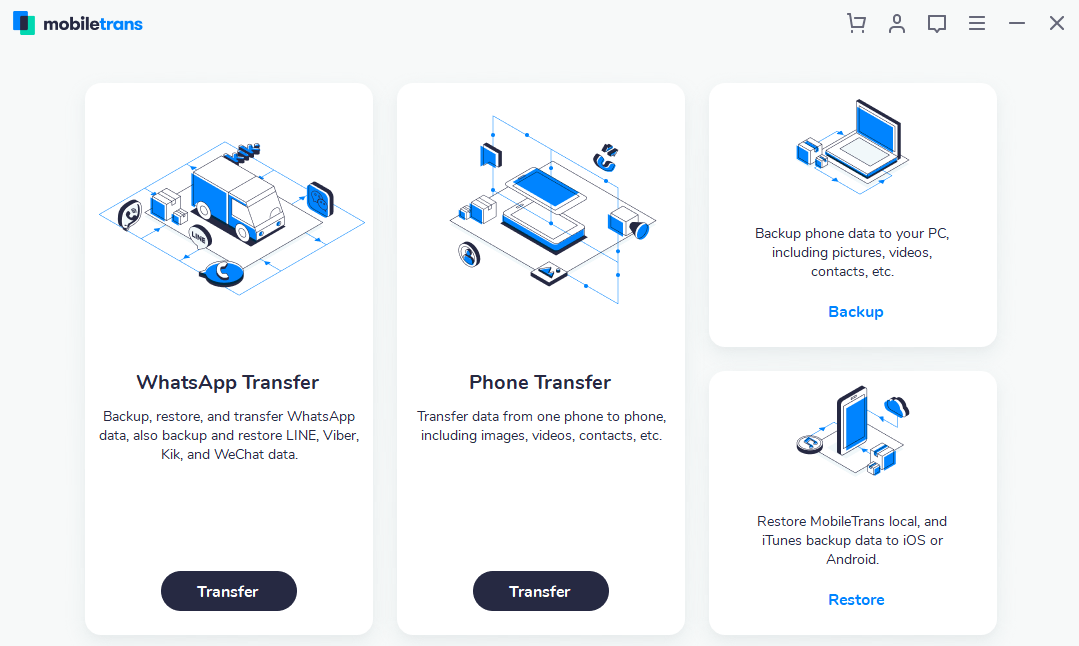 Now it's time to connect both the new and the old smartphone to the computer. You can do it using a USB data transfer cable. Once both of the Smartphones are connected, MobileTrans will load all the messages and media files to begin the transfer.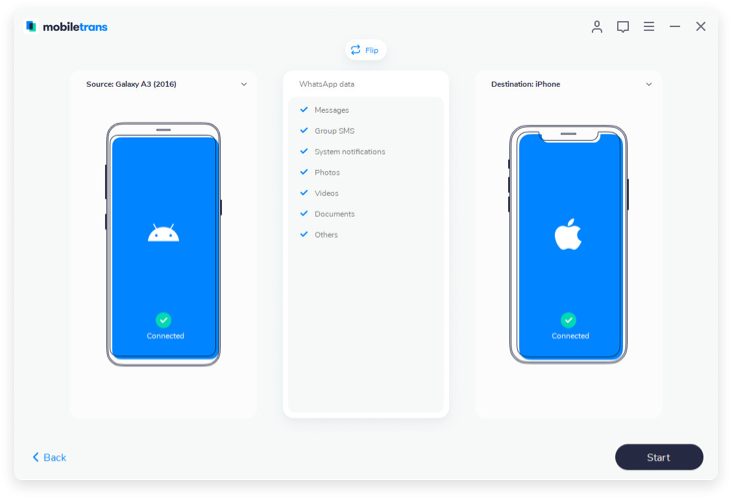 Make sure the source and destination phone are selected correctly. If not then you can simply flip it using the Flip button on the top of the screen. Now just press the Start button and wait for a while until the transfer is complete. You can leave both the phone as it is to ensure everything is transferred successfully.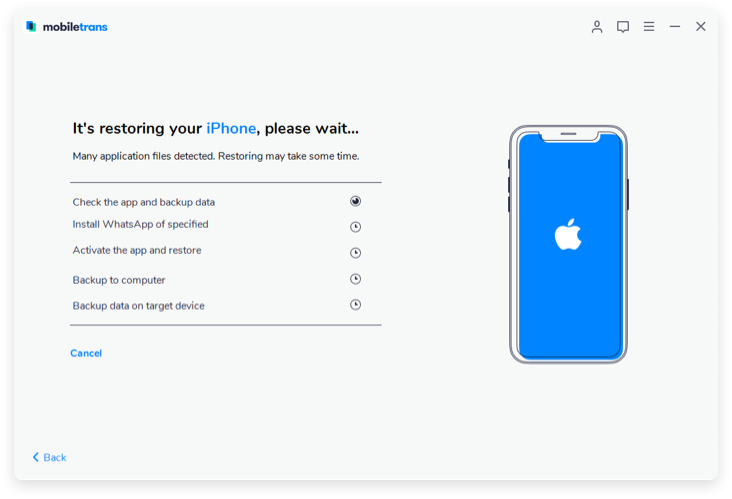 You can check the progress on the screen and after it says "Your iPhone restore completed!" Simply disconnect both the phones and check if the WhatsApp is successfully transferred to the new iPhone.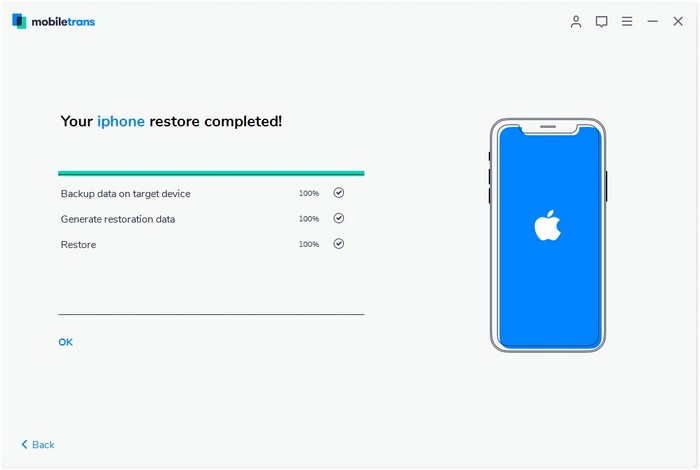 That's it, this is how you can use MobileTrans to transfer WhatsApp from Android to iPhone.
Conclusion
MobileTrans – WhatsApp transfer is one of our personal favorite tools when it comes to moving WhatsApp along with all its chat to a new device. Now you don't have to be like other people who lose all their chat history when they switch to a new device. MobileTrans has made it easy and much simpler.
So, this was a quick introduction and tutorial on how to use the MobileTrans software, let us know what you guys think. In case you have any doubts regarding this software then don't hesitate to drop a comment below and we will be more than happy to help each one of you.