Have you ever come across a situation where you have to make a switch from your old phone to a brand new phone and you have to make sure you take all your data such as contacts, pictures, and apps along with you? Don't worry, we are here to help you out. Let's say, you just switch to new iPhone and now you want to transfer data to new iPhone 11.
Usually what most people do is to go through the manual process of copying the files such as photos, videos to the computer and then transferring it to the new phone, which not only consumes a lot of time but it is also not effective because you still have to set up a lot of other things.
The other and more effective way around is to use an App or Tool to do the same for you. All your data will be transfer to new iPhone in a matter of seconds without you doing anything. So that's the topic of today's article and without wasting any further time let's check out the best ways you can transfer your data from your old Android phone to a new iPhone. Let's dive in.
Move to iOS App.
The Move to iOS is an official app from Apple which helps you to switch to a new device easily by taking all your data and transfer to new iPhone in just a few simple steps. The app is available across all platforms such as Android, iOS and not only you can take your data from an Android phone and transfer to new iPhone but you can also transfer files from iPhone to iPhone.
The process is also very simple here, you just have to install the app in both the new and old device and go through the on-screen instructions. You can then choose which of the data you to transfer from – Contacts, Message history, Camera photos, and videos, Web bookmarks, Mail accounts, Calendars, and Free apps. All the things you have selected will be transferred to the new device through the internet and you don't even require any computer or deal with cables.
Dr.fone – Switch
The next best way you can try out when you switch to a new iPhone and want to keep photos, app data, contacts and transfer to new iPhone simply by using a phone to phone transfer tool. There is much Software you will find on the internet which helps you to switch to a new device, However the best one we found is the dr.fone – Switch.
Dr.fone – Switch is a PC software that allows you to transfer your data like contacts, messages, photos, videos, apps from one phone to another in just 1 click. The software is compatible with over 8000+ devices including iOS and Android and supports 15 different types of files. It is available on both Windows and Mac Operating system. The transfer is very easy and doesn't take a lot of time. You can have your new phone ready with all the data from your previous phone in less than 5 minutes.
This software uses USB to transfer all the data and doesn't worry if you have an age-old device. Dr.fone – Switch supports all the versions of Android from Android 2.0 to the latest Android 9.0 and All iOS versions. We personally used this software to move our data from an old Samsung device and transfer to new iPhone and it worked like a charm.
Benefits of Dr.fone – Switch Over Other Data Transfer Methods.
Sometimes when you buy a new device from a retailer then he might offer you a paid service where he will transfer all your data to the new device and do you know? a lot of them use dr.fone – Switch to get the job done.
The Move to iOS apps seems promising but it misses out on a lot of things. Being an official App it only transfers data from the iOS devices from other devices. It only supports 7 file types, whereas dr.fone – Switch supports over 15 different file types.
The next thing is it transfers all the data through the wifi which can be complex sometimes incase you don't know what you are working with. It might also take you a lot of time to transfer files depending upon the Wi-fi speed.
Although the Move to iOS apps installs the same app on the new device it doesn't restore their data back. So if you transfer WhatsApp then the app will get installed but you will lose all your chats. This is not the case with dr.fone – Switch.
How to transfer your data from Android to iPhone using dr.fone – Switch.
Using dr.fone – Switch is very easy and doesn't require you to follow any complex steps. All your data will be easily transfer to new iPhone in a few simple steps. Let's start by downloading the tool first and install on your computer.
Once you have installed the software just open dr.fone and then click on Switch to access the phone Switch feature. Once you have opened it just connect both of your devices to the computer using a USB cable. When the device is connected, you will see a confirmation message on the screen.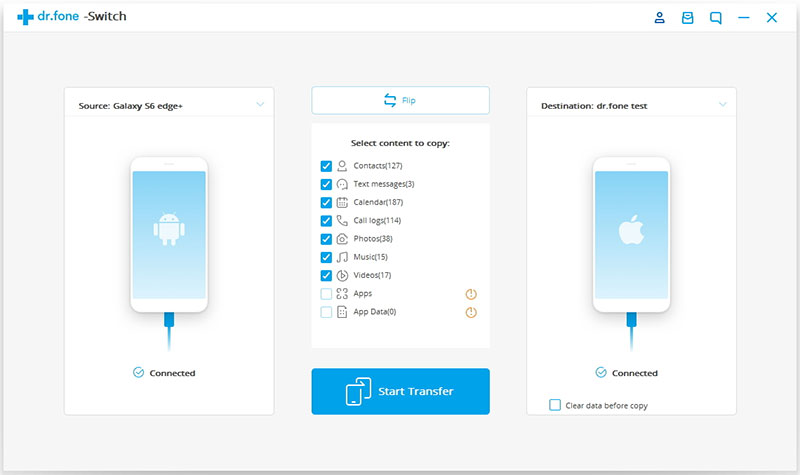 After you have done connecting both the device the next step is to select the type of data you want to transfer. So, from the menu, select the categories you want to transfer to new iPhone and just hit the start transfer button and wait for a couple of minutes for the tool to transfer all your data to your new device.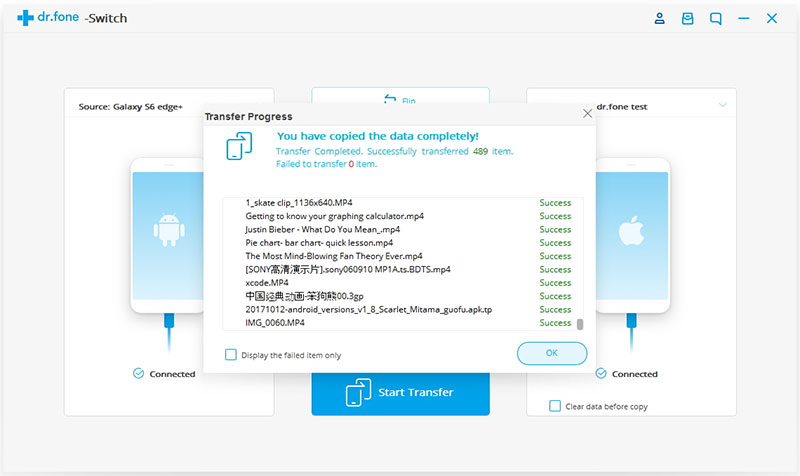 Once it's completed you will get a confirmation message that your data has been successfully transferred and now you can disconnect the phone from the computer and start using your new device.