Wegmans, one of the best grocery store of United States is known for the employees perks and different scholarships programmes that it offers to its employees.
Wegmans was first started in 1916 in Rochester and years passed and it is still one of the loved companies of United States & Thanks to It's Flexible Hours Policy. In 2018, it was the send company after salesforce where people loved to work. The company was also featured in fortunes top 100 companies to work for in 2016.
Wegmans was founded by Wegmans brothers John and Walter Wegman. Wegmans was started in 1916 but it started it first store outside Rochester in 1968 and the store was started at Syracuse. Much later in 1993, the company started it first store outside New York in Pennsylvania.
How much do Wegmans pay?
According to the reports based on the research done by Indeed.com & Wegmans Employee Login online Portal – Mywegmansconnect. here is the salary structure of the Wegmans for its different posts.
Average salary at Wegmans starts from $ 9.6 per hour and goes up to $27 per hour. However, salaries good position position ranges from $15000 to $50,000 per year.
Popular Jobs and their salaries
Profile Average Salary (per hour)
Customer Service representative $13.74
Customer Service team Lead $16.45
Cashier $12.36
Patient Coordinator $22
Pharmacy Technician $11
Retail Salary structure
Profile Average Salary
Front End Associate $11.96
Produce Associate $11.32
Front End Manager $26,218 per year
Food Preparation team salary
Profile Average Salary
Food Preparation Worker $11 per hour
Bakery Assistant $11 per hour
Senior Cook $13 per hour
Prep Cook $10.50 per hour
Wegmans Fanbase
Wegmans get most of the media attention for its amazing fan base, organic food, and the hot food bar. In 2007, the Food network presented the company with the best grocery award. Again in 2017, its subscribers voted on consumer reports as the top grocery store in the United States. In 2016, a survey was done by Market Force which constituted 10,000 grocery store shoppers and Wegmans was declared as the 'America's favorite grocery Store".
Wegmans has a loyal fan base and people used to write a lot of love letters to the company and ask them to open the store in the area where it is still not there. Many high school students in Massachusetts, staged a musical show based on Wegmans and even they have their own twitter hashtag wegmania.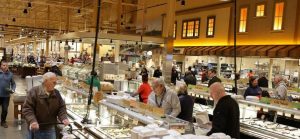 Why to join Wegmans?
For most of the Americans, working with Wegmans is a dream. If you look at the acceptance rate of the Wegmans and Harvard University, you would be surprised. According to research, the Wegmans acceptance rate is 5 percent however, the acceptance rate of Harvard University is 5.8 percent.
For a newly opened store, Wegmans get more than 10,000 applications for just 500 vacancies. This shows how much people like this company. On the other hand, if you see Wegmans, you would come to know that the company provides scholarships and other employees perks. The company pays around $88,000 in scholarships to its employees to complete their schoolings for 4 years. However, the scholarships are given to everyone, it is only for the people who really perform well and need help.
Wegmans is not made itself as a brand but its honesty and affection towards its customers have made it the most liked company in America. There would be many companies who would be supplying groceries to their consumers or having grocery stores in your town but still people like Wegmans. Do you know, Why? Why Wegmans grocery and food products are most fresh?
The main reason for the company's popularity and love is the freshness of the food and other products the company keeps in its store. In a year, the company turns around 100 times their food and other products however, in other stores it is done not more than 20 to 30 times per year. This shows the freshness of the products that Wegmans have at their store. They even have their cheese cave.
Wrapping it up
There are chances that in spite of the fact that Wegmans is the best grocery store in the United States, you may not be knowing it because it would not be there in your locality. But trust me, you can write the company to open the store at your locality if you want the Wegmans store. The company is very responsible and replies to their consumers and therefore it is the favorite grocery store of Americans.