One of the very first concerns marketers have when it comes to content marketing is how to drive traffic to your website. More specifically, how to rank higher on search engine results pages (SERPs) so more people can click on and read the content.
The more obvious pathway is paid advertising. However, not everyone has the knowledge and budget for paid options. So is there a cost-effective way to drive traffic organically to the website?
The quick answer is yes, and not only that, the solution is something that is already there and is free. It's Google Search Console.
What Is Google Search Console (GSC)?
Ahrefs' head of content Joshua Hardwick calls Google Search Console the "most powerful free SEO tool."
Previously called Google Webmaster Tools, GSC is a free service offered by Google that allows for monitoring how Google views a website and how it appears on Google's results pages. GSC can be used to find and fix technical errors, monitor backlinks, inspect URLs, submit sitemaps, and ask Google to temporarily block pages from Google's search results on one's own sites.
Here's a detailed explanation of why Google Search Console is an effective tool for content marketing strategy.
Monitor Site's Performance on Google's SERPs
Improved SEO rankings on Google is the main goal of content marketers, and that can be done by making sure the site is crawlable and properly indexed. Having a central place to check if Google has access to the site will save marketers plenty of time.
This central hub also provides a dedicated space for communicating Removal requests—that is, if there is content on the site marketers don't want Google to show on the results pages. Similarly, marketers can also submit new content to be crawled.
Additionally, GSC makes it easy to see if the website has spam or malware issues so they can be addressed promptly and accordingly.
Overall, it allows the website owner to monitor the site's performance on Google without disrupting its actual search performance.
Get Useful Insights About How the Site and Content Are Received
Data from the Google Search Console provides the keywords and phrases lead users use on the site and which pieces of the content are showing on Google's SERPs.
Based on this Queries report, marketers can compare each content piece and observe which ones are receiving a lot of impressions but are not clicked on by people who see them.
Furthermore, marketers can gauge if the brand's presence on mobile is user-friendly and take the right action to address any issues regarding mobile viewing and usage.
And lastly, Google Search Console helps monitor which websites are linking back to the site and use that data for content direction in the future.
Now it's time to find out how to use this tool to improve SEO and get more impressions and clicks.
Driving Traffic to Content Using Google Search Console
For this purpose, marketers will have to use the Search Analytics tool. They simply have to click on the Performance tab on the Google Search Console. If GSC is not set up yet, this blog might be a good place for guidance.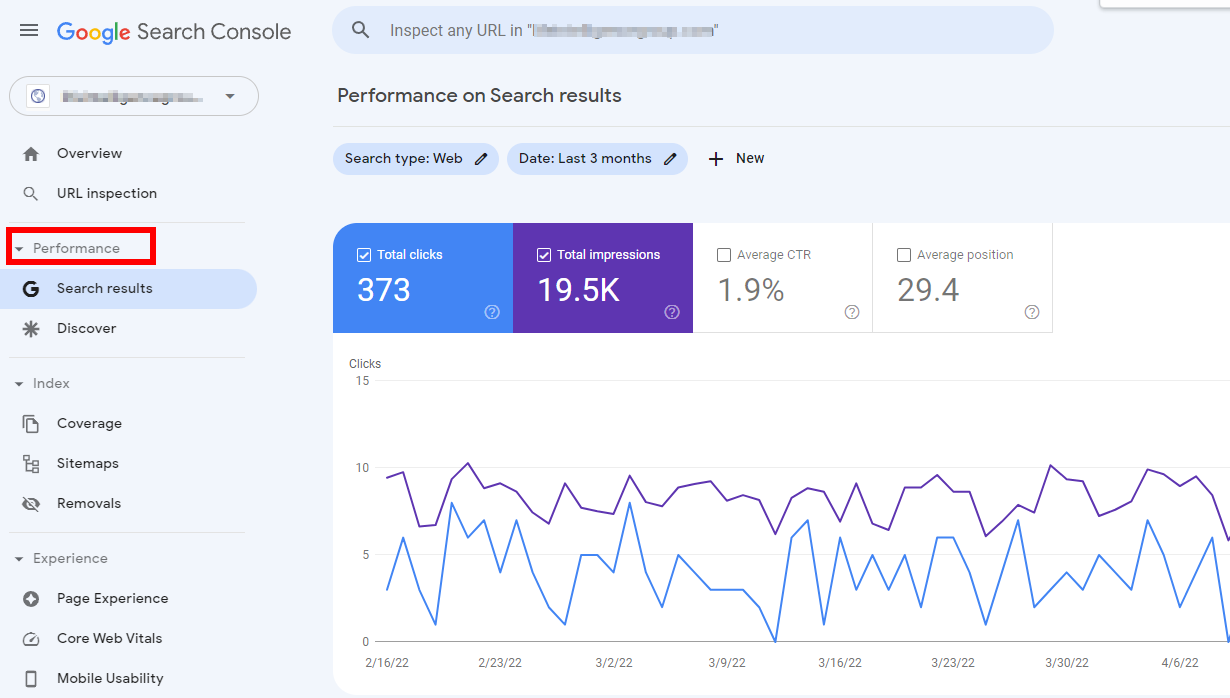 Filename: performance tab_google search console
There are two tabs under Performance: Search Results and Discover. Search Results contains information on how many clicks and impressions the site had throughout a certain period and how much the average click-through rate (CTR) and position were on the SERPs.
Meanwhile, the Discover report shows how often the site or content was shown on Google Discover, which pieces of content performed well, and how that compares to its performance in traditional search results.
For this article, the focus will be maintained on using Search Results data for driving site traffic.
At the top of the Search Results page are the filters to the report, each with a box one can tick to select what kind of data one wants to view.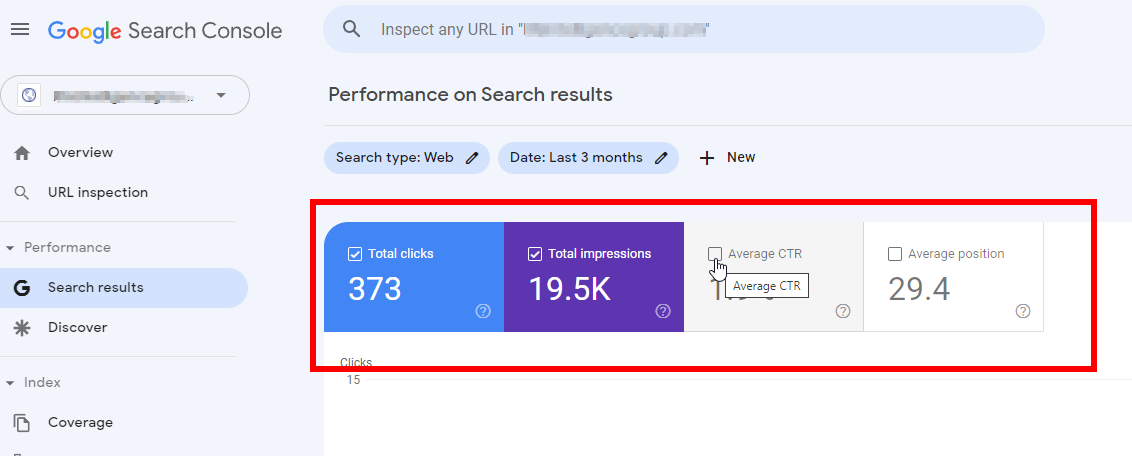 Filename: filters google search console
Click. Refers to the total number of clicks earned as a result of people clicking on a link to the site or content after seeing them from a Google results page.
Impressions. Refers to the total number of people who viewed the title and snippet of the content from a Google results page.
CTR. Refers to the total number of clicks divided by the total number of impressions.
Position. Refers to the average position of the highest result of the content on a Google results page.
Further down the Search Results page are the grouping options that further categorized data.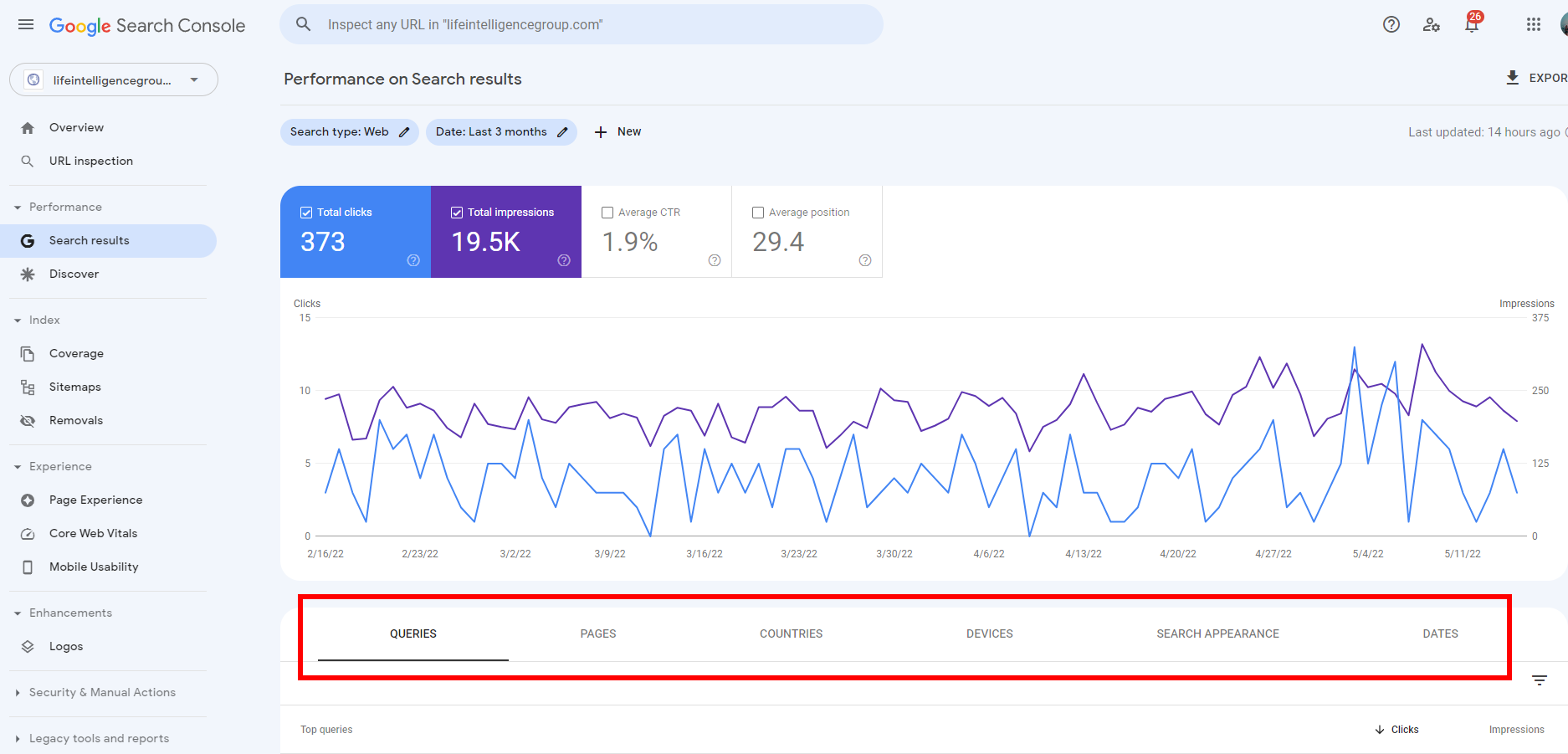 Filename: grouping options_google search console
Queries. Where you will find the search terms, phrases, and keywords that led users to the site.
Pages. Shows which pages and content pieces from the site have appeared on Google search results pages.
Countries. Shows where all those clicks and traffic came from.
Devices. Shows which devices the site visitors are using to view the content or site.
Search appearance. Shows how the videos, rich snippets, and AMP articles are performing.
Date. Lets marketers view any of the filter categories by date.
A combination of these filters and grouping data provides ample possibilities for improving SEO and site traffic. A good strategy is to optimize content pieces by looking at keywords that have high impressions but low clicks.
a. Click on Clicks, Impressions, and average CTR filters and sort by Impressions in descending order.
b. Next, click on the Queries option.
This will show which content pieces currently are being seen a lot but are not being clicked on.
c. Take note of 5 or more keywords that have high impressions but low clicks and average CTR, and note them down on a separate excel or spreadsheet.
d. Open Google and punch each of those keywords in. Observe all the returning results and try to ask why the result wasn't getting the click it should when the visibility is there.
It's not easy to pinpoint the root cause of this, but there are several things that can be done.
Solution 1: Optimizing Title Tag
The first thing a person sees when looking at a Google results page is the title tags.
Here's an example for the keyword: "b2c value pyramid."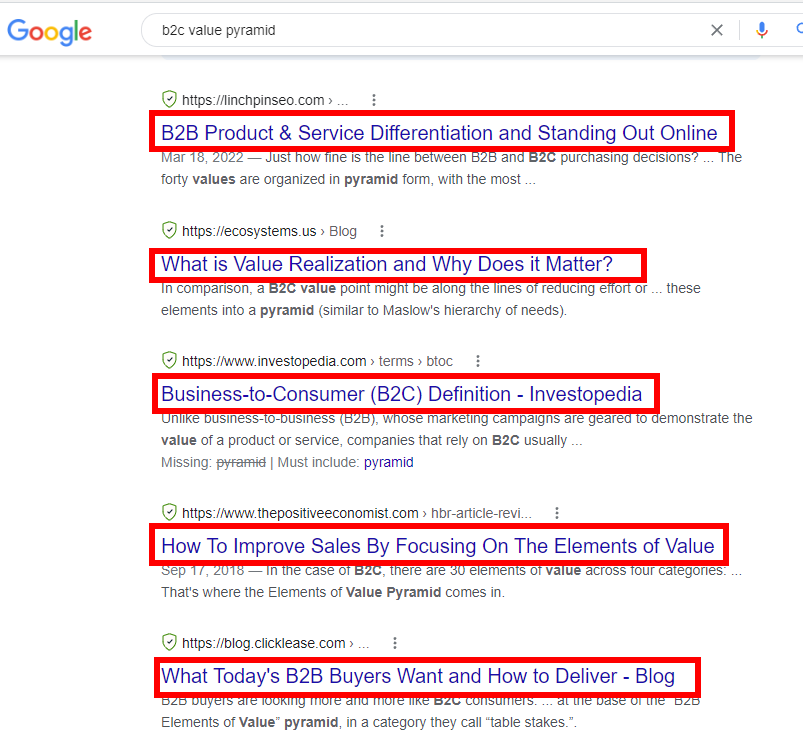 Filename: sample keyword_google search console
Each title tag should efficiently convey what the content is about and must stand out from the rest of the other results on the page. It should also be concise enough, or Google will cut the title tag short. The ideal length of a meta description is around 50 to 60 characters.
The brand name doesn't always have to be included in the title tag for it to show up well. If optimizing title tags is not the marketer's focus, then perhaps it's time for them to do so.
Solution 2: Optimize Meta Description
This seems like basic SEO, but surprisingly, a lot of beginner marketers overlook the routine.
Once readers are hooked to the title tag, it's the meta description's task to convince people to click on the link and check out the site's content. And like the title tag, the meta description should be concise yet captivating.
The ideal length of a meta description is 160 characters.
Here's the top result for the keyword "best title tag examples" with an accompanying winning meta description.

Filename: best title tag_google search console
The meta description starts with a tip that encourages the person reading it to click on the link to continue learning about the tip that was just introduced.
Here's another great example of the search phrase: "how to find the best products to sell."

Filename: how to find the best products_google search console
Aside from the straightforward title tag, the meta description gives an answer right off the bat, which entices the person looking for ways to find the right products to sell to continue reading.
In Conclusion
Google Search Console is a free tool that's easy to use and understand, even for rookie marketers and new e-commerce business owners still trying to make sense of online marketing. With the knowledge of how GSC works and an understanding of the data presented, marketers can do a whole lot of strategizing to help improve the content and drive traffic to the site.