A Website Builder (or CMS) is an essential tool that is used in building business websites or in setting up blogs on what you are working on. There is a wide range of options to pick from such as WordPress. Although it is the biggest and the most popular to use, it is not the best pick for everyone.
Ten years ago, there was an increased demand for website builders. By this time, social media was the most popular tool and websites seemed less important. Now the dice has changed and now both individual people and companies are readily investing in websites
Both LiquidBlox and WordPress are important tools for making websites although they are different from each other.
WordPress is mostly used by Developers while LiquidBlox can be used by anyone
You use your website to showcase both your product and your know-how. It also aids in giving your business visibility in search engines.
Professional coders reap maximumly from WordPress Builder, since developing a custom WordPress site needs technical expertise. It's a great solution for big corporations that have big budgets for their website. WordPress is a powerful way to create heavy websites which have a wide variety of custom features.
LiquidBlox, on the other hand, does not require any technical knowledge. It is an easy-to-use Website Builder that anyone can use to create highly versatile and visual websites. Many of the users are SMEs, freelancers and creative agencies who make sites for their clients.
Source code, Web Hotels, SaaS and updates
WordPress is ideal for almost any purpose following its open-source code. This makes it a great tool for website creation.
Most times, WordPress is fitted at a web hotel following a recommendation by the web design service provider. WordPress also scales efficiently to larger sites.
LiquidBlox' source code cannot be edited which makes it an amazing SaaS (Software as a Service) tool. This tool does not require any kind of installation such as web hotel or any other. This is because it runs on the Amazon Web Service cloud platform (also used by Netflix, for example). This allows it to scale for all users worldwide.
WordPress and LiquidBlox both provide comprehensive updates. In LiquidBlox, updates are installed automatically whereas in WordPress the updates are also easy. Once you run the WordPress updates, you must check if everything is working as expected especially add-ons.
Layout: Template or self-made?
WordPress features ready-made templates and simple basic editing. However, for extensive editing of the webpages, it calls for professional coding skills. The biggest challenge experienced is that the enterprise requires the right people with the ideal skills to fix such kind of issues.
LiquidBlox works best when the pages are created from scratch and without any developer or coding skills. There are ready-made templates that are made for whole websites and block-templates and are used to create pages. LiquidBlox Website Builder has been kept simple. This ensures that even a less experienced user can create beautiful and content-rich homepages with ease.
LiquidBlox allows for customization of its layout element directly on the page view which is both an interesting and a useful feature.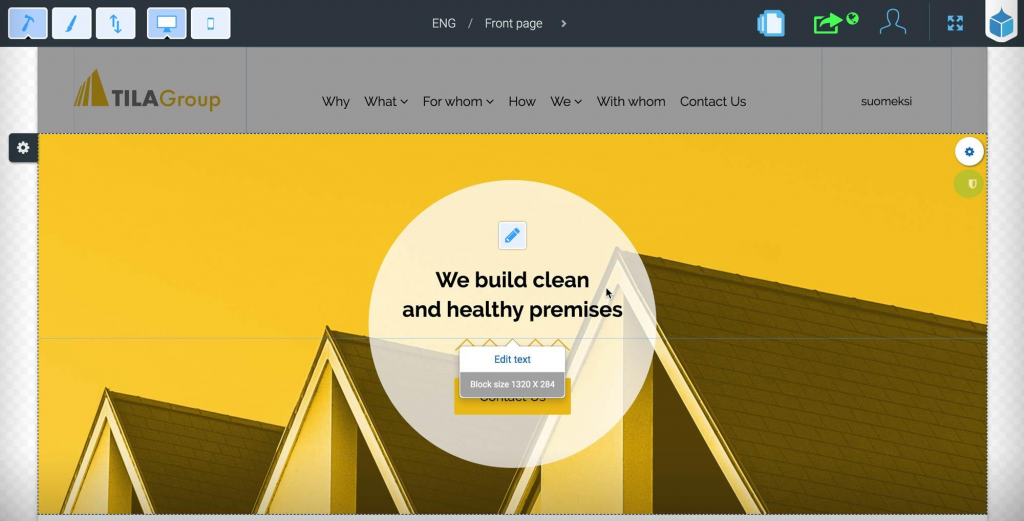 WordPress offers plugins – LiquidBlox integrates with Shopify
WordPress has numerous add-ons (plug-ins) which range from search engine optimization to creating multilingual sites. WordPress community keeps on constantly developing new plugins. WordPress has attracted a clientele base which adds value by providing add-ons, layouts, and peer-to-peer support. This can be attributed to its high popularity.
LiquidBlox supports installing add-ons directly in the page editor. HTML element option allows you to install any HTML-plugin on the page directly. One of LiquidBlox' major strong points is the ease in creating an online store: Shopify e-commerce can be incorporated into a LiquidBlox website within a short time.
Both LiquidBlox and WordPress work well with search engines – the final SEO performance is mostly up to the webmasters themselves and content they create.
Support: WordPress benefits from the community, LiquidBlox provides custom guides
Most of the time, WordPress support comes from the service provider you are using. WordPress community also helps: Most problems can be resolved through visiting discussion meetings, YouTube videos, or using a WordPress professional.
LiquidBlox offers its consumers chat support and many Web Design Tutorials. The tutorial site has an all-inclusive package which has diverse guides while new ones are published each week.
A company website creates an unforgettable first impression – a good or a bad impression
As we started by stating, both WordPress and LiquidBlox are great tools for creating websites. However, the purpose you intend to use it for and the resources you have at hand will determine the solution that will be best for you.
When it comes to choosing a Website Builder (or CMS), take your time and consider how much you are willing to put into the whole project. In terms of time and money. Also, put into consideration the kind of skills available in your company and if you will run the site yourself or have someone else run it for you.
Once you decide on the tool you wish to use, pour your creativity into the project. Design a clear and eye-catchy site with easy access to all the information the clients need. Your customers should not struggle to find information that they need about your products. A well-designed website will turn your visitors into prospect leads for your business.
An eye-catchy and well-performing website gives a great first impression of your business. Using the right tool, you are guaranteed that the impression you want is exactly what you get.