With all those files on your Mac, eating up the space of your hard drive. Are you sure you need them all? No duplicates? No unwanted files? No old files or cluttered data from uninstalled apps?
You may think it is okay cause your Mac has a lot of space. But if these files keep on piling up, your dilemma will start. It will cause your Mac's performance to become sluggish and lags occasionally. Your Mac system will not run as smooth as before.
Check your Mac Storage space. Maybe your Mac has had enough piling up those unwanted and unused files. It may be screaming right now wanting to be cleaned up.
Now, you may think of cleaning your Mac manually. But, do have the luxury of time? Long patience in browsing each folder and selectively choosing which one goes to the trash?
If your answer is NO, then allow the iMyMac Mac Cleaner to do the job.
Stop hesitating and asking yourself if "Do I need a Mac Cleaner?". It is a definite "YES!". It is hassle-free and worry-free. Boost your Mac to become its finest after the cleaning process.
Allow the iMyMac-Mac Cleaner to do the job for you.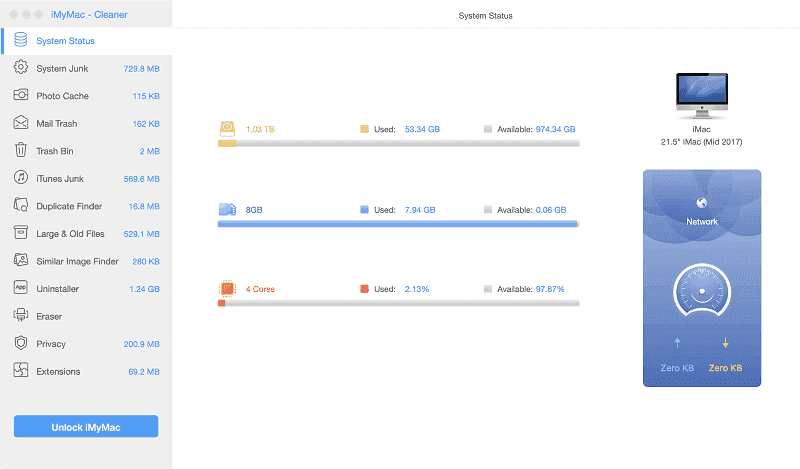 Part 1: What is a Mac Cleaner?
Mac cleaner is a tool used to clean up and helps you boost your Mac. It allows you to check your Mac system status and all the files in your Mac.
Depending on the software, it will show your files in a category. The Mac cleaner will delete selected files completely. It may or may not include as well other functions aside from the cleanup feature.
So choose only the best Mac Cleaner to speed up your Mac.
Part 2: What is iMyMac Mac Cleaner?
An iMyMac Mac Cleaner is a software that will clean up your Mac in a faster and safer way. It will quickly scan and trash out files that are not needed.
The Mac Cleaner does not only do a simple scan. It goes deep through your files and scans each folder from email attachments, iTunes backup, old folders, and even trash bins.
Everything is checked. The Mac Cleaner will also show your Mac CPU status, system status, Disc, and Memory.
The software will only show you safe-to-delete files. It will preview files by size, time, and the date. Select and choose the desired file/s to be removed. You are the one who is in control when using the iMyMac cleaner. You are also the only one that will have access to your files.
Besides, it will also allow you to experience cleaning up like a pro. You don't need to be a guru to use this software. It has a simple screen menu design for easy understanding.
Part 3: How to Use the iMyMac Mac Cleaner?
Using the iMyMac Mac Cleaner is very easy. Just follow these four steps and start cleaning up your Mac with a few clicks away.
Step 1: Select System Junk
Run the program by clicking the "iMyMac – Mac Cleaner" icon and check your Mac device system status.
Click "System Junk" shown on the left side of the screen and let the iMyMac do its job.
Step 2: Scan Your Mac
Click the "Scan" button shown on the bottom of your screen. Wait a few minutes for the scanning process to be completed. It will display all the junk files on your Mac by folders. It will show the files by categorization (e.g. Photo Junks, System Logs, Mail Junks, iTunes Junk, and others).
If you want to do a rescan, just click the "Scan" button again.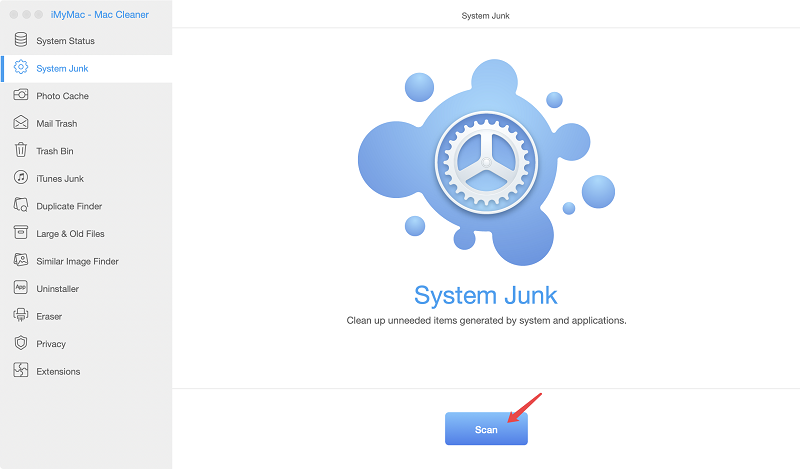 Step 3: Choose Unwanted Files to Delete
Selectively choose one or more categories you want to be clean up. Files within the chosen category will be shown on the right side of your screen. You can now selectively choose the file/s to be removed. Review once the files to be deleted before clicking the "Clean" button on your screen.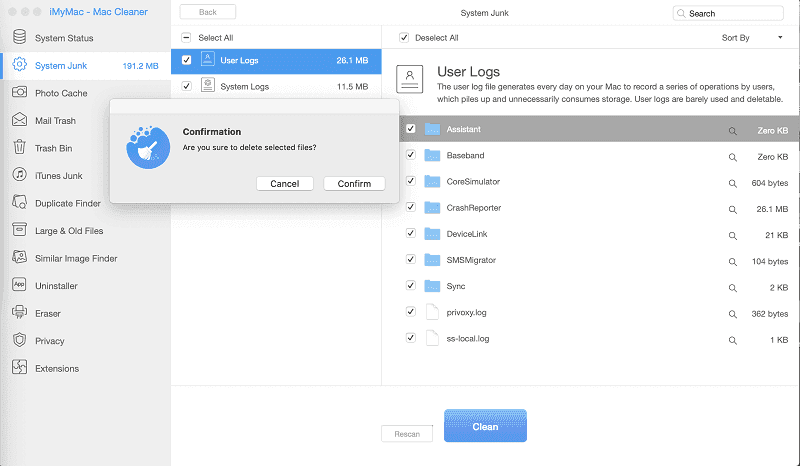 Remember that the iMyMac- Mac Cleaner will leave no trace of these files once deleted.
For Large and Old files steps of cleaning up is just similar.
Step 4: Junks Cleanup Completed
Select the "Confirm" button to start with the cleaning up process. It would only take a few minutes for the process to be completed. All chosen files are removed from your Mac hard drive storage with no mark left behind.
Some of the folders will be labeled as "Zero KB" while others will be auto recreated folders after the process.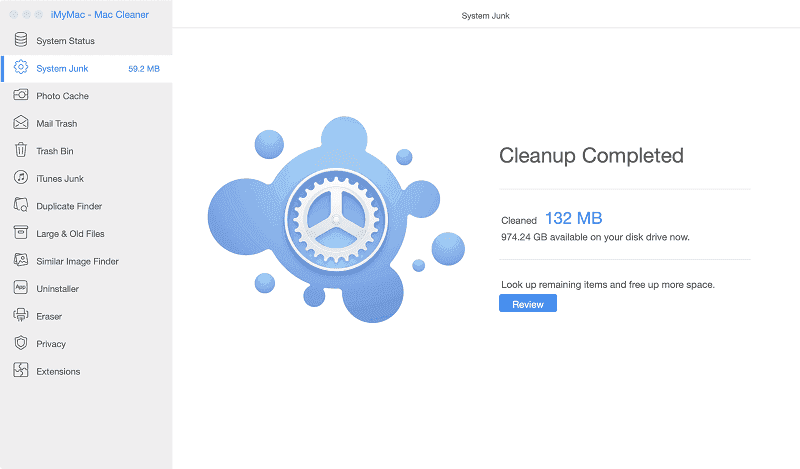 Finished!
Part 4: Is the iMyMac Mac Cleaner Powerful?
YES! It will not only clean up your Mac, but it can also do other jobs for you. The iMyMac Mac Cleaner comes with other cool features making it the best Mac cleaner.
Listed below are its other features.
1. Remove Duplicates
Duplicate Finder easily finds and remove all the duplicated files and photos piling up on your Mac storage.
For the Similar Image Finder feature, search by image. Then, select a similar photo to remove. This can also apply for duplicated files.
You can save up storage space for new data.
2. Shred Files
Remove confidential files on your Macs with no worries. This Eraser feature will 100% delete files from Mac hard drive. No traces will left exist on your Mac.
3. Clean Up Browser
Clear your browser with iMyMac, use this built-in function to clear history, cookies, and other junk files in your browsers right away.
The efficiency of boosting your Mac are the same when speeding up your browser. This Privacy feature will also leave no hint of your private data.
4. Uninstall Apps
This is one of the coolest feature of iMyMac Mac Cleaner. Using the Uninstaller will not only remove the app but as well the files synced in it. You don't need to check if there are files left behind after the uninstallation process. Saves you more space for your Mac.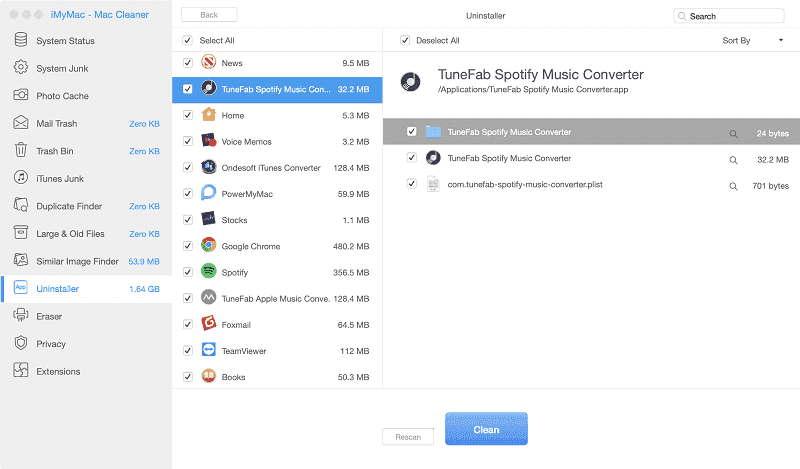 Part 5: The Verdict
The Mac Cleaner of iMyMac is a very handy software to use in cleaning your Mac. Speed up your Mac with no-worries. No need to follow confusing commands. Just run the iMyMac Cleaner and follow those 4 simple steps to complete the whole process.
Download and install the program to get to experience 30-days of iMyMac Mac Cleaner whole system for FREE! Delete those useless and unwanted files in a faster, safer and easier way.